BHCA Newsletter November 2015
The most amazing BHCA Newsletter this month!
This month's Lead Advertiser:
To Those Who Serve or Who Have Served
Thank you.
Poppy protocol: 5 things to know about wearing the red flower
From CTV: http://www.ctvnews.ca/canada/poppy-protocol-5-things-to-know-about-wearing-the-red-flower-1.2641081
Five things to know about poppy protocol recommended by the Royal Canadian Legion:
Traditionally the poppy is worn during the Remembrance period, which is the last Friday in October to the end of the day on Nov. 11.
Poppies can also be worn at other commemorative events throughout the year, such as the Battle of the Atlantic and the Battle of Britain. It can also be worn by colour parties on parade or by members attending funeral services for veterans or ordinary members of the legion.
The poppy should be worn with respect on the left breast close to the heart.
Other than the traditional poppy associated with Remembrance Day, the legion has a lapel poppy pin made of metal with the words "We Remember" on a bottom banner. A poppy sticker suitable to wear on clothing is also available.
The lapel poppy should be removed following the end of Remembrance Day.
(SOURCE: Royal Canadian Legion poppy manual)
Ottawa Artisans Guild Holiday Craft Sale
Ottawa Artisans Guild Annual Holiday Craft Sale
November 14 & 15, 10am – 4pm
Lester B Pearson High School – 2072 Jasmine Cres.
Free parking and admission
Donations to the Food Bank are welcomed
50+ Local Artisans offering unique one of a kind handmade items. Artists, woodworkers, glass, pottery, jewlery, fashion,  fabric art, photography and gourmet food items.
www.ottawaartisansguild.ca
613-824-5914
RINKS TIME!
It is time for us to begin recruiting young people to become Rink Supervisors.
The role pays a $10/hour stipend or sign-off on volunteer hours.
The youth must have a cell phone, and an email address.
The duties of a Rink Supervisor are quite simple:
Call 9-1-1 in an emergency
Unlock and lock the skating huts
Count the number of skaters once an hour
Shovel the rink only if there's a light dusting.
The Rink Supervisor must stay at the rink the entire shift, however, skating, playing hockey and all manner of outdoor fun are encouraged.
Please visit www.BHCA.ca/rinks to sign up!
RINKS TIME! Part II
Do you want to learn how to build an outdoor rink?
Do you think you can put in a few hours here and there to maintain a great ice surface? Perhaps with a couple of buddies?
We can pay you!
If you've ever considered calling the city about the state of the ice rink, then this job is for you.
Please fill in the form for Rink Supervisors, and put a comment about how you'd like to make some decent money building an ice rink for the community.
Please visit www.BHCA.ca/rinks to sign up!
BHCA Federal Debate Follow-up
A few people live tweeted the debate we held on October 7th. They are presented on our website without comment and appropriately attributed to their authors:
Report from the BHCA Environment Committee
Much is happening on the climate change front. On September 16th, the Deputy Mayor of Vancouver, Andrea Reimer, talked to an overflow crowd at City Hall about how Vancouver, currently rated as the fourth greenest city in the world, is pursuing the goals of being the greenest and running on 100% renewable energy. David Chernushenko, Ottawa City Councilor and chair of Ottawa's Environment Committee, also spoke about how our city is striving to become the green capital of the world. Other Ottawa city councilors, including Tim Tierney, were also present reflecting the increased level of commitment the current city council has for addressing the problem of climate change. Strong turnouts at events like this are encouraging for those working to establish a greener Ottawa.
On November 12-13 the Canadian Climate Forum Symposium is being held at the Westin Hotel to heighten awareness around the impact climate change has on food production, distribution and value. A notable slate of experts are scheduled to present their views. BHCA members who would like to attend the symposium can obtain a discounted registration rate by emailing eco@bhca.ca.
On November 26 Ecology Ottawa will be hosting its 2015 Eco Gala Dinner with former Parliamentary Budget Officer, Kevin Page, presenting the keynote address. The BHCA Environment Committee is reserving tables for BHCA members. Please plan to attend to show your support for climate change efforts and to help Ecology Ottawa continue its valuable work. Email eco@bhca.ca to obtain tickets for seats at the BHCA tables.
Sunday, November 29th from 1-4pm
It's a family friendly event. Come out to Parliament Hill for what could be the biggest climate change march in the history of Ottawa. It's an historic opportunity to be heard by our new Prime Minister and federal government in their first month in power. Various groups are filling buses from cities across Ontario and Quebec to come to Ottawa this day. Ecology Ottawa is working to rally local citizens to help make a strong statement. You are asked to register your support and intention to attend to further strengthen the message. Consider who you might forward this notice to and who you might take with you to the event to make it a fun time.
"Earth provides enough to satisfy every man's needs, but not every man's greed."

― Mahatma Gandhi
But I Want It…
or
Every Conversation Between a Parent and a Child in Four Conversations.
By Sean Williams on Slate.com
www.slate.com
Maybe you didn't hear me. I really, really, really want it.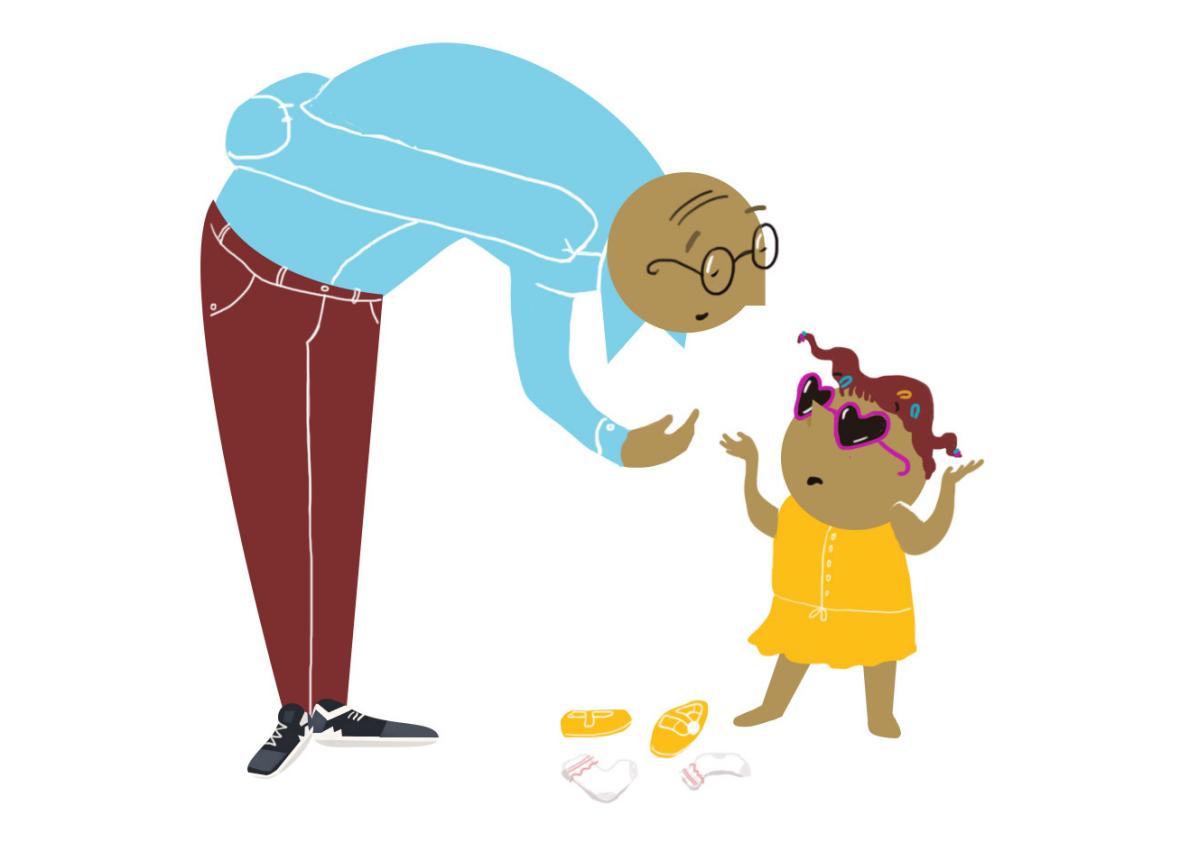 Illustrations by Natalie Matthews-Ramo
1.
Child: Can I have this?
Child: Ah, perhaps I've miscommunicated. I'm asking for it because I want it.
Me: I understood that, actually.
Child: I think maybe you're not hearing me. I'd like it because I want it.
Me: I've heard you quite well, I'm saying that's not actually an argument.
Child: PERHAPS IF I SAID IT LOUDER.
Me: There's no problem with my hearing. The problem is that your argument is, as the Romans would say, circulus in probando.
Child: Well then, let me offer this new information: I want it.
Me: That's the same information. That's what you just said, and it's also the information I assumed when we started.
Child: Well, can I watch YouTube?
Me: You also can't watch YouTube.
Child: If I can't watch YouTube, then can I have it?
Me: No! Sorry. No. Why would you think you can have it now?
Child: What if I ask more politely?
Me: I support your decision to behave more politely, and it might increase your chances of getting the next thing you want, but it won't affect your access to this thing now.
Child: Can I have part of it?
Me: No. No, the having of it is what I'm saying no to. Having part of it is the same as having it.
Child: So can I have all of it?
Me: No! I'm answering the same question. The answer is no.
Child: But, OK, look, here is some new information.
Me: Just put your shoes on.
Child: In the vacuum of space, are there free-floating molecules?
Child: Did you know that we don't actually vote for president, we vote for people who vote for president?
Me: I don't care, put your shoes on.
Me: You're not. Put your shoes on.
Child: Why do we have shoes anyway?
Me: Just put your shoes on.
Child: That reminds me, where are my shoes?
Me: What? They're right there! Right next to your feet!
Me: YOU ONLY HAVE … I'm sorry. Yes. Those shoes. Your only shoes.
Child: Why don't I have more shoes?
Me: No more questions, just put your shoes on.
Child: I can't. I'm not wearing socks.
Me: Did you take your socks OFF?
Child: Well, I'm not wearing them any more, so it's a fair bet.
Me: Put on your socks and then put on your shoes.
Me: You're not! You're just sitting there!
Child: This is me putting on my shoes! This is part of it! All of this, this is the putting on of the shoes. It says in the I Ching …
Me: NO. NO MORE I FRIGGIN' CHING. PUT YOUR … I'm sorry. I'm sorry. Just … put your shoes on.
Child: I found my socks. They were right here next to my shoes.
Me: If you put your shoes on by the time I count to five, I'll let you choose what we do next. One …
Child: (with socks and shoes already on) YouTube.

Child: I see. I see. So you're saying this is dinner.
Child: But this is whole pieces of food that you've just … cooked.
Me: Yes. We're eating something healthy for dinner.
Child: How can we be sure this is healthy?
Me: It's healthy. And it's dinner. Eat it.
Child: I had cold pizza and Skittles for breakfast, and then I got a 100 on my spelling test.
Me: You've stumbled into post hoc ergo propter hoc there, buddy, and that hasn't worked since the second century.
Child: PERHAPS IF I EXPLAINED THAT I DON'T WANT IT.
Me: You can yell all you want, this is dinner.
Child: I think it's cold.
Child: Look at it. It's cold. It's gone cold.
Me: Eat it, it's not cold.
Child: I'll eat it if you eat it.
Me: No! That's not the way it works!
Me: BECAUSE I'M THE GROWN-UP AND I SAID SO NOW QUIT ASKING ME AND GO DO SOMETHING ELSE BESIDES TALK TO ME FOR THE LOVE OF GOD OR I WILL LITERALLY BLOW UP FROM SITTING ON MY ANGER AND IMAGINING HOW MUCH TROUBLE I WOULD BE IN IF I PULLED THIS SHIT WITH MY PARENTS IN 1978!!!!
Child: Why are you yelling?
Me: I'm sorry, I'm sorry, I didn't mean to yell, I'm really sorry. I'll order pizza.
Child: Sometimes one just needs one's mother.
Me: I'm standing right here, perhaps I can help you.
Child: This falls under Mom's purview, so …
Me: She's busy right now, and I'm taking care of you.
Me: Upstairs. But don't go there.
(Long pause, muffled discussion from upstairs)
Child: Mom says to ask you. Where is the thing from before?
Me: The thing I wouldn't give you before?
Me: Why do you want to know?
Child: I'm a curious person. I thirst for knowledge.
Me: But you can't have it.
Child: Boy, you are really jumping to conclusions here! I know I can't have it! OF COURSE! I'm just curious.
Me: If I tell you where it is, will I find out that at some future time, you have the thing?
Child: Does anyone truly know what the future holds?
Me: So, there is a future where you've gone and gotten the thing.
Child: Hold that thought.
(Long pause, muffled discussion from upstairs)
Child: Mom says she's busy and that you should just tell me where the thing is, because I promised not to get it.
Child: As Mom is my witness.
Me: You know you aren't getting it, right?
Child: I just like to know where things are, in our house.
Me: The thing is on top of the refrigerator.
Child: Why did you put it there?
Me: Because I don't trust you.
Child: But … how is that possible? I trust YOU.
Child: I trust you so much that I know when I go and get a stool and bring it over by the refrigerator, and climb up it, the thing will be there.
Me: You promised you wouldn't do that.
Me: DO NOT GO TO THE KITCHEN. I SWEAR TO GOD IF I HEAR THAT STEP STOOL—
(Child comes back into room)
Child: Why were you yelling at me?
Me: I'm sorry. I shouldn't have yelled.
Child: Can I play on the computer?
(Child opens computer and begins watching videos on YouTube)
Mom: I specifically told you not to get on the computer.
Consideration for this Newsletter provided in part by:
This Newsletter also sponsored in part by Councillor Tim Tierney
Copyright © 2015 Beacon Hill Community Association, All rights reserved.
You are receiving this email because you opted in at our website BHCA or when you signed up as a member.

Our mailing address is:

Beacon Hill Community Association

2012 Hollybrook cres

Ottawa, On K1J 7Y6

Canada

unsubscribe from this list    update subscription preferences